2000
Marts - March
Maj - May
Køkkenhaven 1
The Kitchengarden 1
Køkkenhaven 2
The Kitchengarden 2
Køkkenhaven 3
The Kitchengarden 3
Forhaven - The Frontyard
Dejligt Ukrudt - Lovely Weeds
Lidt af hvert - Various
Hurtige skud - Snapshots
Juni - June
Juli - July
August
September
Oktober - October
De andre sider:
Hoveddøren
Astrologi
Butik Kragehøj
Kragehøj Postkort
Neptuns Træværksted
Cy's Corner
Bagdøren
Tina'sSide
Hvor & Hvad
Grafik
MacSiden
Andre Tina'er
FolkePoesi
Alle Bogmærker
Julesiden
Venner
Djursland

The other pages:
TheFrontdoor
Astrology
Boutique Kragehoej
Kragehoej Postcards
Neptune Woodworkshop
Cy's Corner
TheBackdoor
Tina's Page
Where - What
Graphics
MacPlace
Other Tinas
FolkePoetry
All Bookmarks
The Xmas-page
Friends
Djursland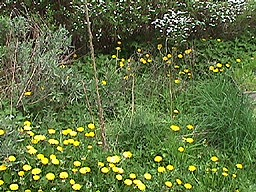 Mit meget tilgroede og snart forhenværende urtebed, der skal stå et drivhus i stedet.
My very overgrown and soon to be gone herb bed, there's going to be a green house instead.
Urterne skal flyttes hertil i stedet, dels i disse kasser, dels i potter.
The herbs are going to be here instead, partly in these boxes and also in pots.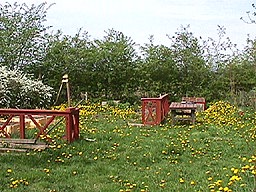 For enden, op til hækken, i "Urtegården" er det planen at anlægge en terrasse.
Behind the boxes, along the hedge, in the "Herbyard", we're planning a terrace.
Den første "indbygger", en læge-stokrose er flyttet ind og krukkerne er klar.
The first "inhabitant", a marsh-mallow, has moved in, and the pots are ready.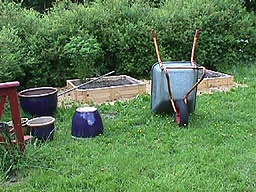 Herunder er et lille kig ind i gårdhaven, en del af haven der, gennem årene, har været mange forskellige planer for. Desværre har ingen af dem rigtig fungeret, hvorfor den efterhånden er blevet lidt forsømt, og nu mest fungerer som "planteværksted". Et eller andet bli'r vi nu nok nødt til snart at bestemme os for, hvis ikke det skal udvikle sig til noget nær en katastrofe...
I don't know the english expression for this part of our garden. A direct translation would be something like: "court garden". We've had a lot of different plans for this place, during the years, but none that really worked. As of now it's mostly used as "planting workshop", but it won't be long before we have to do something seriously if it isn't going to end up as a total disaster...