My MacPlus Page
Min MacPlus Side
Oh, but I just love that cute little computer. It served me very well for 6 years but are now somewhat retired, though ready to start up, just in case. It's maxed out to 4 mb ram, and this schematic shows how to do it.
Jamen jeg elsker da bare den nuttede lille computer. Og jeg brugte den med stor fornøjelse i 6 år, men nu er den sådan set på pension, og dog klar til at starte op på et øjeblik. Man kan jo aldrig vide. Den er selvfølgelig opgraderet til de max. 4 mb ram. Dette diagram viser hvordan det gøres.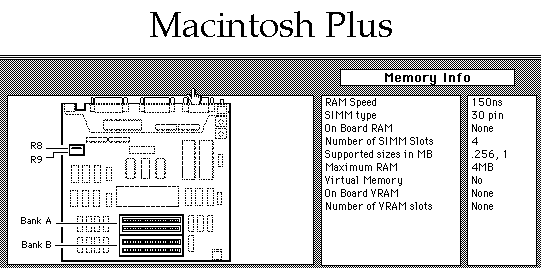 Du klipper simpelthen resistoren mærket R8 af. Klip så tæt på printpladen som muligt og bøj den til side. På den måde kan du altid få den på igen, hvis du af en eller anden underlig grund skulle få lyst til det. Hvis der sidder en resistor i R9 (ikke særligt sandsynligt) klippes den osse af.
Det er alt. Den bli'r en lille smule langsommere til at starte op, men bare rolig, den skal nok virke.

You simply cut the resistor R8. Cut as close to the board as possible and just bend it away. That way you'll be able to restore things later, if you for some strange reason would want that. If there's a resistor in R9 (not likely), cut that one too.
That's all. It will be a bit slower on start up, but don't worry, it will work.
MacPlace • MacStedet
My Macs - Mine Mac'er • MacPlus • IIfx • Q800 • PM 8500 • De andre - The others
MacLinks Index • MacLinks • MacLinks Scandinavia • MiskMac
MacGrafik - MacGraphics • MacSkan Mailingliste
Email:
mactina@nehaia.dk

The Macinstein Search Engine Banner Exchange is currently down, but the site is still running.
Check it out at Macinstein